WATERSIGN69'S PROFILE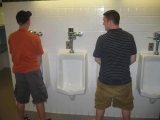 Rating: 4 RATINGS
Rate Me:
ABOUT ME
Birthday: July 8, 1958
Current City: Kansas City
Age: 59
Current Zip/PO code:
Gender:
Occupation:
Relationship: Single
Orientation: Gay
About Me:

Just a gay black man, looking is my thing mostly with the desire to be touched every now again when I can get it. I like men of any age, race, and almost any shape. Well do just about anything except abuse myself, thought I would let someone else do that to me.

Favorite Movies & Shows:

Dances with Wolfs, Avatar, Star Wars, Star Trak, The Matrix.... A lot of TV recorded programs ( I can skip thru the stupid ads )

Favorite Music:

Rob Thomas to Michael Buble.
My Videos
My Friends