WEBBYB35'S PROFILE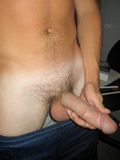 Rating: Not Rated RATINGS
Rate Me:
ABOUT ME
Birthday: December 10, 1976
Current City: Pooler
Age: 40
Current Zip/PO code:
Gender:
Occupation:
Relationship: Open
Orientation: Bisexual
About Me:

I\'m a very cool laid back person who loves life to the fullest. I am very discreet and confidential about my sexual desire for men. I am a top brother looking for that bottom brother to satisfy my lust for a man. I am trustworthy, honest, and real person. I am as real as they come and also drug free and disease free and look for the same in my mate.

Favorite Movies & Shows:

All the CSI\'s and NCIS and Criminal Minds and First 48. My favorite movies are Bad Boys 1 & 2. Anything with Will Smith and Martin Lawerence in it. Also a big Eddie Murphy fan. Also love comic books and comic book shows and movies. Also love my XBOX and Kinect.

Favorite Music:

Is Reggae, Rap, R&B, as well as some Pop, Jazz, and gospel music.
Recently Watched Videos
My Friends