ZAV0022'S PROFILE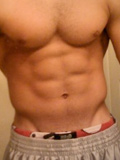 Rating: 1 RATINGS
Rate Me:
ABOUT ME
Birthday: March 26, 1990
Current City: Clarkston(heights)
Age: 27
Current Zip/PO code:
Gender:
Occupation:
Relationship: Single
Orientation: Gay
About Me:

Do you really have to write anything down? Haha. Kind of odd.

Favorite Movies & Shows:

Bones, the real housewives series, house, south park, family guy. Oh and porn obviously. Haha

Favorite Music:

Anything but country.
My Favorite Videos
My Friends