AIJAY'S PROFILE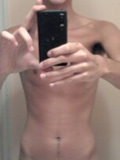 Rating: Not Rated RATINGS
Rate Me:
ABOUT ME
Birthday: March 14, 1980
Current City:
Age: 37
Current Zip/PO code:
Gender:
Occupation:
Relationship: Open
Orientation: Gay
About Me:

Jus here 2 hav a laff. Dun loads of crazy shit in my teens an wish I was a dunb teen agen. Love Dares, story of my life. I can out-dare nebody. Well Ill giv it a gud try.

Favorite Movies & Shows:

Loads I was a film reviewer wen I was 21 so deres 2 many.

Favorite Music:

IfI like it I like it.
My Favorite Videos
My Friends