ALEX1963'S PROFILE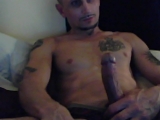 Rating: 17 RATINGS
Rate Me:
ABOUT ME
Birthday: June 26, 0000
Current City: Philadelphia, PA
Age: 2018
Current Zip/PO code:
Gender:
Occupation: Supervisor
Relationship: Single
Orientation: Gay
About Me:

I\'m probably one of the few gay men out there who does NOT like ass. I don\'t like to eat ass nor do I like fucking an ass. Depending on the dick I\'ll ride a cock now and then. Now a good skull fuck is the best! I\'ve got a weakness for young, European, Puerto Rican, Dominican or Hispanic boys 18-22 but do NOT like them to be too fem with funky haircuts, clothes from the Limited or any sway in their walk. On the other hand, the \"thug, trouble-maker\" style gets old quick. I would like to get more into gay activism but am out only to my friends, family so a closet will remain my office. I just went to my 1st bathhouse a few months ago and like anything new I had to go again to a different one to see if I really hated it the first time or I didn\'t give it a chance... I hated it. Too much porn led me to believe there would be amazing boys/sex. Not in Philly or Providence, R.I. bathhouses... if I was attracted to the overweight grandfather pinching his microscopic flaccid penis then I\'d have been in heaven. I was in love once...6 years it lasted and I think I aged 26 more during that time. Love is a never ending battle of personalities and it will remain available to teenagers who haven\'t a clue. Pretty much said it all... btw to the boy in the video (web cam J.O.) I have marked as my all time favorite...WHERE ARE YOU AND CAN I OWN YOU FOR THE REST OF YOUR LIFE????

Favorite Movies & Shows:

Kill Bill 1&2, Female Trouble, Peewee\'s Playhouse.

Favorite Music:

House, RnB, Hip Hop, Reggeaton, Old New Wave.
My Favorite Videos
My Friends