BOBBYBOBBIN'S PROFILE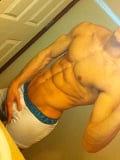 Rating: Not Rated RATINGS
Rate Me:
ABOUT ME
Birthday: June 6, 1985
Current City:
Age: 32
Current Zip/PO code:
Gender:
Occupation: Self-Employed
Relationship: Single
Orientation: Gay
About Me:

I am a fun loving guy in a very laid back sort of way. I don\'t like gossip, drama or lies. Life is too short so why waste the time on crap like that. I am faithful and true to the causes I support.

Favorite Movies & Shows:

Joan and Melissa, the new Karate Kid, The Red Violin, Selling New York, Face Off on SyFy, Being Human on SyFy, Dr. Oz Show.

Favorite Music:

I like all genres except rap.
My Favorite Videos
My Friends