FRANKFEET'S PROFILE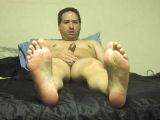 Rating: 1 RATINGS
Rate Me:
ABOUT ME
Birthday: August 31, 1970
Current City: Whittier
Age: 48
Current Zip/PO code:
Gender:
Occupation: Web Designer/Programmer
Relationship: Single
Orientation: Bisexual
About Me:

I am a horny guy who loves to have his feet worshipped all the time. I love having a guy suck on my toes and lick my soles. When my feet are satisfied I want my cock to be sucked on until I cum

Favorite Movies & Shows:

Foot fetish movies

Favorite Music:

Wide variety of styles.
My Videos
My Friends