GLDNDUDE'S PROFILE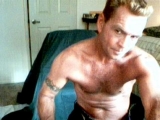 Rating: 1 RATINGS
Rate Me:
ABOUT ME
Birthday: February 2, 1968
Current City: Phoenix
Age: 50
Current Zip/PO code:
Gender:
Occupation: Underwriter
Relationship: Single
Orientation:
About Me:

Blnd, Blu, 5\'10\" 8+ cut..Athletic, Top.. Renaissance type of guy.. My interests are wide and varied...What I physically like in guys is generally smaller, darker, on the more passive side.. I have a few twists and turns I\'m a very candid guy so ask me anything..

Favorite Movies & Shows:
Favorite Music:

Not a music critic.. A-Z..
My Favorite Videos
My Friends