JERKOFF47'S PROFILE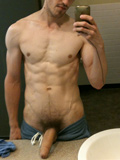 Rating: Not Rated RATINGS
Rate Me:
ABOUT ME
Birthday: May 15, 1947
Current City: Granite City, IL
Age: 70
Current Zip/PO code:
Gender:
Occupation: retired
Relationship: Single
Orientation: Gay
About Me:

I am gay. When I am with a man, I like to suck his dick. I also like to lick his dick while I am sucking it. I like to lick and suck his balls, and suck his dick some more, then I like to jack him off, so he can shoot his load of cum in my mouth, so I can swallow, and eat it.

Favorite Movies & Shows:

Most tv shows except reality shows. I like most good movies.

Favorite Music:

I like rock&roll, but not hard rock.
My Favorite Videos
My Friends