JJADAMS13'S PROFILE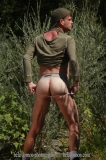 Rating: Not Rated RATINGS
Rate Me:
ABOUT ME
Birthday: November 6, 1972
Current City: San Francisco
Age: 44
Current Zip/PO code:
Gender:
Occupation: Blogger
Relationship: Single
Orientation:
About Me:

Blog features porn stars, Drake Rock exclusives and male models.

Favorite Movies & Shows:

The Lair, Dante\'s Cove and Paradise Falls.

Favorite Music:

Music featured on Drake Rock.
My Favorite Videos
My Friends