MATTYBLACK'S PROFILE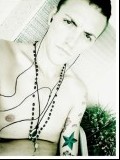 Rating: Not Rated RATINGS
Rate Me:
ABOUT ME
Birthday: July 7, 1984
Current City: Long Beach
Age: 33
Current Zip/PO code:
Gender:
Occupation: Marketing
Relationship: Taken
Orientation: Gay
About Me:

I love watching porn and making porn with my partner, soccerstud82. Sometimes we smoke things and thats chill too

Favorite Movies & Shows:
Favorite Music:

House!!!!!
My Favorite Videos
My Friends