NITOMUNECO'S PROFILE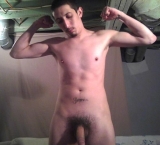 Rating: Not Rated RATINGS
Rate Me:
ABOUT ME
Birthday: February 8, 1988
Current City: Las Vegas
Age: 29
Current Zip/PO code:
Gender:
Occupation: Got A Job
Relationship: Single
Orientation: Gay
About Me:

I am fun and energetic! I;m always down to do anything fun! I;m definitely a freaky person! I am always horny, too!

Favorite Movies & Shows:

Weeds, United States Of Tara, CSI, Nurse Jackie, Ghost Whisperer and True Blood!

Favorite Music:

Everything but country and heavy metal! I especially like Utada Hikaru, Bianka, BoB, Britney Spears, Shakira, Usher, Mike Jones and Paramore!
My Favorite Videos
My Friends