OKRANGLER9'S PROFILE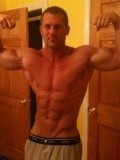 Rating: 5 RATINGS
Rate Me:
ABOUT ME
Birthday: August 30, 0000
Current City: Collinsville
Age: 2018
Current Zip/PO code:
Gender:
Occupation: Law Enforcement
Relationship: Open
Orientation: Gay
About Me:

Really a boring guy. I live for my job because I love it. Bars and such dont interest me. I like the lake,snow skiing,boarding,travel and watching shirtless dudes walking around.

Favorite Movies & Shows:

Modern Family NCIS-LA NCIS CSI-NY CSI-Miami

Favorite Music:

Only country--only OK-maybe a bit of classical if I am at home on a rainy day.
Recently Watched Videos
My Friends