SIRWILLIAM'S PROFILE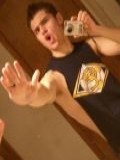 Rating: Not Rated RATINGS
Rate Me:
ABOUT ME
Birthday: November 30, 1991
Current City: Crittenden
Age: 27
Current Zip/PO code:
Gender:
Occupation: College Student
Relationship:
Orientation:
About Me:

I\'m an amazing guy who likes good amazing music I play guitar work out my fav sport is soccer. I love strong muscular men and i like it when the strong dominant men get their asses fucked. I also like fisting videos anything with guys with big muscles

Favorite Movies & Shows:

the simpsons, drawn together, BATMAN,

Favorite Music:

slipknot, avenged sevenfold, the beatles, go radio, matchbox twenty, asking alexandria, mayday parade.
Recently Watched Videos
My Friends