TENHUNG5'S PROFILE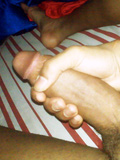 Rating: Not Rated RATINGS
Rate Me:
ABOUT ME
Birthday: September 1, 1961
Current City: Santa Barbara County (Lompoc), California
Age: 56
Current Zip/PO code:
Gender:
Occupation: Runway Coach/Agent/Modeling
Relationship: Open
Orientation: Gay
About Me:

I am worldly, versatile, former model and dancer, and legal aide for U.S. Federal Government. I\'m multi-racial (black-french-creole/german/native american/russian); 6\'4\", 187pds, athletic tight swimmers build, dark bronzetan complexion, dark brown eyes, short crop dyed hair (dark blonde); top, 9\" to 10\" uncut, enjoy porn, lived in San Francisco 17 yrs, and abroad 12 yrs., moving to LA area for new job, enjoy writing and reading (bio\'s mostly); speak German, English, (some French & Italian); luv 3-ways are more, excellent hygiene, no drama, positive thinker and spiritual. Gay all the way, no offense to other\'s but I have never been w/female and don\'t knock it. Like to role play, dress-up, my favorite partners in sex (bodybuilders who bottom and/or bears and muscle guys, also GUYS who really love giving head.

Favorite Movies & Shows:

The Birds, In & Out, Gone With The Wind, Frozen River, Leona Helmsley: The Queen of Mean, Casablanca, Now Voyager, Bonjour Tristesse, Querelle, The Queen, Strangers On A Train.

Favorite Music:

Michael Buble, Lara Fabian, O\'Jays, Barbra Streisand, Luther Vandross, Heather Headley, Elton John, Kings of Leon, Whitney Houston, Joan Osborne, Beyonce, Bon Jovi, Eros Ramozotti, Manfred Hemm, Christina Aguilera, Mary J. Blige, Justin Nozuka, James Taylor...
My Favorite Videos
My Friends