UHLER'S PROFILE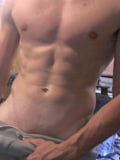 Rating: Not Rated RATINGS
Rate Me:
ABOUT ME
Birthday: September 30, 1954
Current City: Palm Springs
Age: 63
Current Zip/PO code:
Gender:
Occupation: Self-employed
Relationship: Open
Orientation: Gay
About Me:

open mined. Like all types. 6 ft. tall , Salt & pepper hair, Average build, 185 pounds

Favorite Movies & Shows:

to many to mention

Favorite Music:

no rap or hip hop.
My Favorite Videos
My Friends