VIAVOCAL'S PROFILE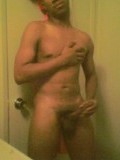 Rating: Not Rated RATINGS
Rate Me:
ABOUT ME
Birthday: January 24, 1983
Current City: Bellflower
Age: 35
Current Zip/PO code:
Gender:
Occupation:
Relationship: Taken
Orientation: Bisexual
About Me:

Im real down to Earth and love to meet new people. Just treat me with respect and I will give you the same.

Favorite Movies & Shows:

A lot

Favorite Music:

Everything except acid rock and Most country. I can listen to just about anything else.
My Favorite Videos
My Friends