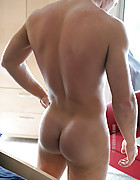 ABOUT ME

Birthday: Jun 18, 1977
Age: 38
Gender: Male
Relationship: Single
About Me:
Versatile skin boy with piercings.I love leather and chain but military as well! So many kind of playing roles in action!!! I'm into watersports of course, it's one of my favorit! First of all shaved boys. But the most important thing: JUST BE YOURSELF. JUST BE WHO YOU ARE!