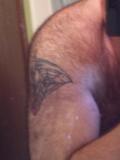 ABOUT ME

Birthday: Oct 05, 1978
Current City: Owens Cross Roads
Age: 37
Current Zip/PO code: 35763
Gender: Male
Relationship: Single
Orientation: Gay
About Me:
32yo, versatile, 5'11, 250, gotee, shaved head, hairy, gwm, in search of new friends. Prefer straight acting men of all ages for fun.
Interests & Hobbies:
Traveling to a specific place or just driving nowhere is fine by me. I play around in the kitchen a lil bit.
Favorite Movies & Shows:
True Blood,
Favorite Music:
Flyleaf, Linkin Park, Jason Aldean, Hank Williams Jr Patsy Cline, Halestorm, Snoop Dog, Niki Minaj, The Beatles............ I can listen to pretty much anything.