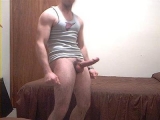 ABOUT ME

Birthday: Oct 05, 1977
Current City: Palmdale, California
Age: 38
Current Zip/PO code: 93551
Gender: Male
Relationship: Single
Orientation: Bisexual
About Me:
I'm just a guy that likes to wrap his hand around his cock masturbating to some hot porn, Str8, gay or bi. There is something about watching a guy putting his cock in a wet pussy or ass. Also watching him jacking off, especially when he dosen't know he is being watched. The look on his face as he is at the point of no return moaning and shooting a hot puddle of sperm on his stomach. Probably cause I know the pleasure he is having. I love a hot pussy, and a nice pair of tits, but sometimes I get a hankering for a big throbbing cock. I really get off taking about sex with my buddies and them letting them know that I'll go home and masturbate to hot porn. Love to go to pornshops and check out the booths and add my hot load to the wall or floor, even hotter when someone watches me, and if they know me all the better.