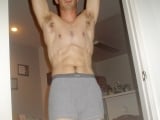 ABOUT ME

Birthday: Sep 09, 1980
Current City: C-Town
Age: 35
Gender: Male
Occupation: I\'m Part owner of a Tree Service
Relationship: Single
About Me:
I'm 5 '9" 160 pounds. I have blonde hair and blue eyes. You tell from my pic that I love to workout. I have a 8.5 inch dick and I know how to use it. When it comes to sex, I just keep going and going and going. Hit me up if your interested.
Interests & Hobbies:
I\'m an outdoor type guy. I LOVE getting dirty.
Favorite Movies & Shows:
I love the new Night Rider tv show thats on. I love the car, but LOVE the guys who drives it :D
Favorite Music:
I\'m a country music fan.
Favorite Books:
I love to cook, so I read cookbooks.