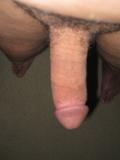 ABOUT ME

Birthday: Dec 1977
Current City: Reston, VA
Age: 38
Current Zip/PO code: 20191
Gender: Male
Occupation: 100% Versatile Pig
Relationship: Single
Orientation: Gay
About Me:
5'10" 8.5 inches always horny and looking for extended play with a group of piggy men. Get into lots, limits are extremely few.
Interests & Hobbies:
Double Penetration, FF, WS, Sandwich, toys, porn, extended play, sling, leather, role play, selective barebacking, building fuck buddy relationships with piggy, kinky, wild men.