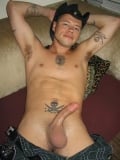 ABOUT ME

Birthday: Mar 28, 1974
Age: 41
Gender: Male
Occupation: Porn Star
Relationship: Taken
Orientation: Bisexual
Website: http://www.damondoggsblog.blogspot.com
About Me:
Hi, my name is Damon Dogg. I am a slut, bottom (sometimes top) from San Francisco. 5' 11" / 155 #'s / 8" cut cock / smooth boy butt that likes raw dick attached to manly men.
Interests & Hobbies:
Sex, Music, Classic cars.