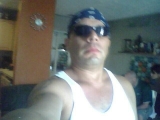 ABOUT ME

Birthday: Apr 06, 1978
Current City: Palm Springs
Age: 37
Current Zip/PO code: 92262
Gender: Male
Occupation: self employed
Relationship: Single
Orientation: Gay
About Me:
I'm naturally smooth for the most part, shave what little I have including my head. I have a couple of tats so far, both ears pierced not sure yet but I might pierce my right nipple. I'm Chicano but speak little spanish, yeah I know I want to learn how. I'm naturally tan pretty dark in the summer. I'm a hands on fix it kinda guy who works hard at what ever I do. I'm hot for younger guys but don't rule out anyone. I love sex, but who doesn't, I'm affectionate and caring and would love to find love again but I've had my heart broken once real bad so it's made me a bit hard to trust anyone again since. I just hope for guys to understand how I feel. I have no agenda for now I just like to have fun.
Interests & Hobbies:
hot horny twinks, sex, underwear, first timers..... more to cum.....