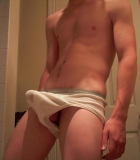 ABOUT ME

Birthday: May 17, 1978
Current City: Marco Island
Age: 36
Current Zip/PO code: 34145
Gender: Female
Occupation: Gay Porn Model & Golf Pro
Relationship: Open
Website: http://gaywatch.com/Hunter Woods.html
About Me:
Hey HOT Boi's... My name is Hunter and I'm a Porn Model. I am 30, 5'10, 170lb 32", White, Athletic Build (former Pro Soccer Player), Brown Hair, Hazel Eyes, Smooth, Toned, Tan Body, with an 8" Thick Cut Cock. I am a Top/Vers but ocassionally Love to get Fucked by a HOT Boi or More. My SPECIALITIES Are...My Tongue..Sucking HUGE HARD COCKS as deep as I can, Rimming a Hot..Smooth Ass, Being Naked, Double Fucking, Outdoor/Public Sex, Hot Tubs, Swimming Pools, ALL SEX..1 on 1, 3 Ways, Groups, Gang Bangs, Orgies Fisting (I'm ONLY a Fisting Top), and SEX Parties With HOT Twinks, College Boi's, Jocks, First Timers (I Love giving a HOTTIE experience it without know what to expect) and Fulfilling Any Wild Fantasies You might have!! Also...I have a HUGE Underwear & Soccer Shorts..Seeing HOTTIES in HOT SEXY Underwear (Jocks, Thongs, Skimpy Bikini's, Low Cut Briefs, HOT Swimwear and More..!!), Soccer Shorts (with No Underwear), Board Shorts and More...!!! :) PLUS Underwear Parties, Being Naked with other HOTTIES, Watching HOT Porn, Performing on Webcam or Camera (More Hotties the Better...and just having ALOT Of HOT SEX..!!! Let's Hangout...Get NAKED..Watch HOT Porn and have some HOT HOT SEX..!!! You can IM me at.... EvryBottomsDesir - AIM HotJockBoi4PnP - Yahoo Or Email Me at..... HunterWoodsXXX@gmail.com SEE YOU SOON...!!!
My Favorite Videos

View All
You Can Spunk I
Twinks Kissing
Seth Roberts