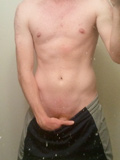 ABOUT ME

Birthday: Apr 12, 1990
Current City: Brooklyn, New York
Age: 25
Current Zip/PO code: 11223
Gender: Male
Occupation: Student
Relationship: Taken
Orientation: Gay
About Me:
My name is Justin. My boyfriend's name is Jason. -That's why my name is JJ :)-I have Gray-SteelBlue eyes, Black hair (sometimes it's spikey) 6-pack abbs, Mucles, Light-Tanned skin, A 10 in. fat cock ;) SOME QUOTES THAT I LOVE: Never give up on somthing you cant go a day without thinking about. Smile every minute of the day, cuz you never know who is falling in love with it. Never regret something that once made you smile :) I have a few things i can't live without; MY BOYFRIEND, MY FAMILY and MY DOG. I love them all. They mean the world to me :) To my haters, FUCK YOU. To everyone that supports me, I love you all :) Any questions- Don't be afraid to ask!
Interests & Hobbies:
Swimming, Chillin with friends, Going to bars, Fucking my boyfriend and have him fuck me ;) Going to the beach with my boyfrend and german shepherd.
Favorite Movies & Shows:
SHOWS: Family Guy, Simpsons, Friends, Queer As Folk, Two And A Half Men, As The World Turns, Human Target, House, The Office, The Good Guys, American Dad, Bob's Burgers, TMZ, How I Met Your Mother, NFL Football, South Park, The King Of Queens. MOVIES: Wild Hogs, Bad Boys 1,2, Transporter 1,2,3, Titanic, SAW 1,2,3,4,5,6,3-D, Dead Silence, Pineapple Express, National Security, Cop Out, The Hangover.
Favorite Music:
I love the song "One Day" by Matisyahu FT. Akon and I love The All-American Rejects, All-Time Low, Cartel, Daughtry, Nickelback, Boys Like Girls- basically lots of bands
Favorite Books:
Romeo & Juliet, Julius Ceasar, Hamlet and anything by Nicholas Sparks.